We offer you a top class accommodation services at Villa Sikuri, right by the lake Kyrösjärvi. Can be booked e.g. together with your fishing trip at Kyrösjärvi lake.
Together with our business partners we can offer you top class accommodation services also by all other lakes and sea areas.
Please familiarize yourself with Villa Sikuri, and let's then plan the trip and its accommodation exactly according to your needs.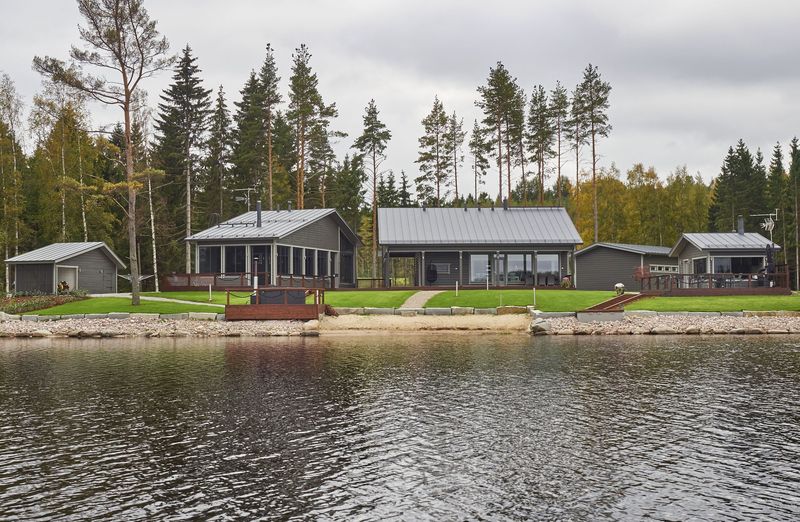 Villa Sikuri
Villa Sikuri is located at Hämeenkyrö (Osara), along the highway-3, very close to Kyröskoski and Ikaalinen. Villa Sikuri, the full-service conference and accommodation facility was completed on 2016. It's located by the famous Kyrösjärvi lake (48th biggest lake in Finland), only 46 kilometers away from Tampere center. For our customers we provide throughout the year high-quality accommodation and catering services, also combined with fishing trip/guide services.

Mökin varustus:

Lämmitys: Vesikiertoinen lattialämmitys
Valaistus: Sähkövalaistus
Päärakennuksen keittiön varustus (täysin varusteltu):

Sähköliesi (keraaminen)
Kahvinkeitin
Pakastin (iso)
Mikroaaltouuni
Kylmävesijohto
Lämminvesijohto
Astianpesukone
Jääkaappi (iso)

Juomavedensaanti: Vesijohto
Pesuvedensaanti: Vesijohto
Takka: on, x 3
Saunan tyyppi: Puulämmitteinen (IKI-kiuas)
Saunan sijainti: Saunarakennuksessa
Vene: Soutuvene + mahdollisuus vuokrata moottorivene
Grillikatos: kaasugrilli, sähkösavustin

Peseytymistilat

Suihku x 3
Pesukone
Kuivausrumpu

Sisä-WC x 2
Oleskelutilat: Päärakennuksen, Takkatilarakennuksen ja Saunarakennusten yhteydessä, kaksi isoa sisäterassia, kaksi isoa ulkoterassia
Kylpytynnyri (Kiramin palju, max 10hlöä)
Juhlateltta max 60 hlöä (vuokrattavissa erikseen)
Laituri x 2 (vene- ja uimalaiturit)
Muu varustus:

Minikeittiö x 2
Kuivauskaappi
Televisio x 5 (isoin 75")
Sopivat johdot kannettavan tietokoneen (esim PC tai Mac) ja TV:n välille
Playstation 4
Silitysrauta ja -lauta
Hiustenkuivaaja
Karaokelaitteisto
Kiinteä Wi-Fi
Äänentoistolaitteisto (siirreltävä) + 2 kpl mikrofoneja
Bluetooth kaiutin
Palosammutin x 2

Lapsivarustus:
Rakennusvuosi:
2016
Pinta-ala:
135,0m

2

Makuuhuoneita:
5
Vuodepaikkoja:
12
Lisävuodepaikat:
8
Sijainti:
Osarantie 235, 39230 Hämeenkyrö, FINLAND
---