Kalle "zander" Paavola
Founder of Pro Kalastus, and a fishing guide. Born in 1979, educational background is chef. For me it has always been very important to spend a lot time on the lakes & sea, and to develop products for different fishing techniques. My dream already as a young boy was to be able to create a profession out of fishing. That dream came true, for which I am truly grateful to all of you. Fishing has always been a major part of my life. My first ice fishing trips were done so that I was inside the backpack.
Fishing guide's best moment is when you see client's joy and happiness when the catch (perhaps a Big One) is finally on the boat. Also very important for me is to not mark down any good days when the amount of catch was high, but instead during the more challenging days trying to figure out where, how and with what fish can be caught. During the past years I am all the time more and more confident that fish eats every day. One simply must be able to solve the puzzle of location, equipment and technique to be used. I do fishing with all sorts of equipment, but definitely closest to my heart is different forms of jigging.
Fishing competitions have always been very important for me. There you can see your own development, and the importance of well working equipment and gear in fishing. Competition-wise my biggest achievements have been winning the Finnish nationalship in ice fishing on 2013, winning Häme-cup trolling competition on several years, winning pike trolling European championship on several years and winning several local championships in ice fishing.
Destinations where I operate: Lake Kyrösjärvi, lake Kirkkojärvi, lakes Kulo-Rautavesi, lake Pyhäjärvi of Säkylä, lake Näsijärvi, lake Längelmävesi, lake Vanajavesi, lake Roine, lake Pyhäjärvi of Tampere, sea area of Vaasa-Loviisa.
Special skills: All forms and techniques of jigging; casting, vertical jigging, dropshot jigging (zander, perch, pike), casting for pike, casting for sea trout, exact trolling of shallow/deep water, ice fishing, reading the fish finder (sonar).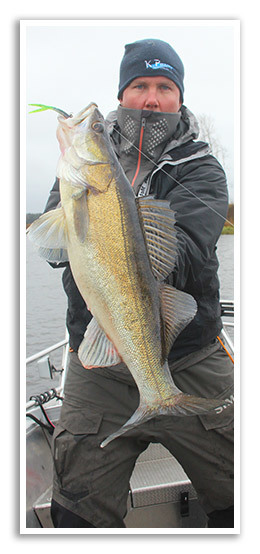 ---